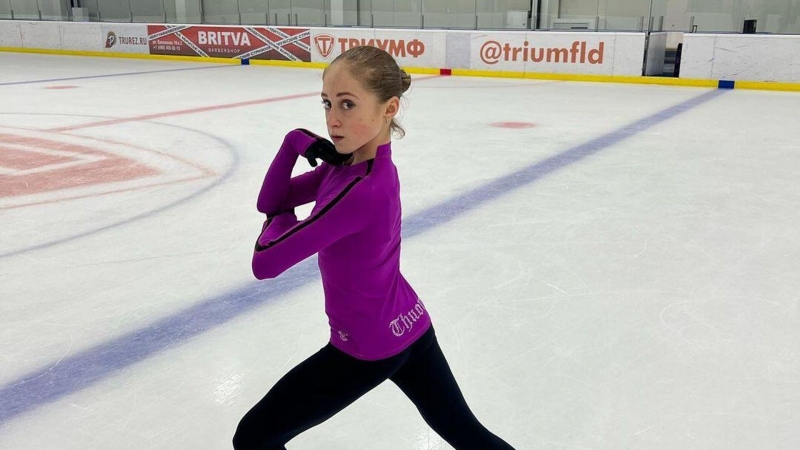 16-year-old Russian junior champion Alina Gorbacheva scared the whole country. The athlete's mother told RIA Novosti about her disappearance after training at the Chkalov Arena in Moscow.The Investigative Committee even opened criminal proceedings under the article "murder", but it seems that a miracle happened. Surveillance cameras recorded that the figure skater entered the cafe after the news of the disappearance.
How all started
The story of the disappearance of the talented Alina Gorbacheva has become the main hot topic in Russia, and not only in sports. Literally, the whole country was anxiously following the news feed, hoping that everything would be fine for the athlete. Even if the messages were more worrying than each other. The day before, the young figure skater finished his training around seven in the evening and headed home, choosing a route through the park.
And then the girl disappeared. The cameras show how she enters the park, but not how she exits. The athlete's mother Ekaterina, in an interview with RIA Novosti, first spoke about the disappearance of her daughter, while admitting that "a lot of time has already passed." The Investigative Committee of Russia immediately joined the case.
The organization's press service reported that an operational check had been organized on the fact of the disappearance. Soon, the LizaAlert search team on the official website announced a gathering of volunteers to search for the missing figure skater. "Gorbacheva Alina Dmitrievna. Collection for research. As of August 28, 2023, her whereabouts are unknown. Collection location: scheduled. Collection time: from 4:45 p.m. Dress code: city," the statement reads. #39;team.
Even Russian ice dance champion Elizaveta Khudaiberdiyeva joined in the process, and 2020 European champion Alena Kostornaya on social media urged everyone to believe in the best. Later, information was received that the Investigative Committee opened a criminal case on the grounds of a crime under Part 1 of Art. 105 of the Criminal Code of the Russian Federation (murder) to establish all the circumstances of the disappearance of the figure skater. In parallel, divers began to work in the Moskva River, northwest of the capital, at the site of the possible loss of a figure skater. The search on the water using a boat continued for several hours, after which the divers decided to interrupt them, without finding anything. The detachments present in the park also did not find traces of Gorbachev's disappearance. There were conflicting reports that the athlete's belongings had been found, but they were quickly refuted.
In such situations, one often prepares for the worst, but in the event of Gorbachev, there is a good chance that everything went well. The Telegram channel of the Moscow prosecutor's office published a video from the camera of one of the cafes on the Volokolamskoye highway, which clearly shows that the skater is alive and, apparently, in good health. under control at the Moscow prosecutor's office," the message reads.
Later, the cashier of the institution confirmed to RIA Novosti that Gorbacheva was indeed in the cafe and was alone in the room. A security guard at a nearby church said they saw the figure skater walk past the building.The search for the junior Russian champion continues, but there is now real hope that all will be well for her. the reasons for her disappearance have yet to be determined. jpg" alt="A miracle happened? The missing figure skater was found in a Moscow cafe" />