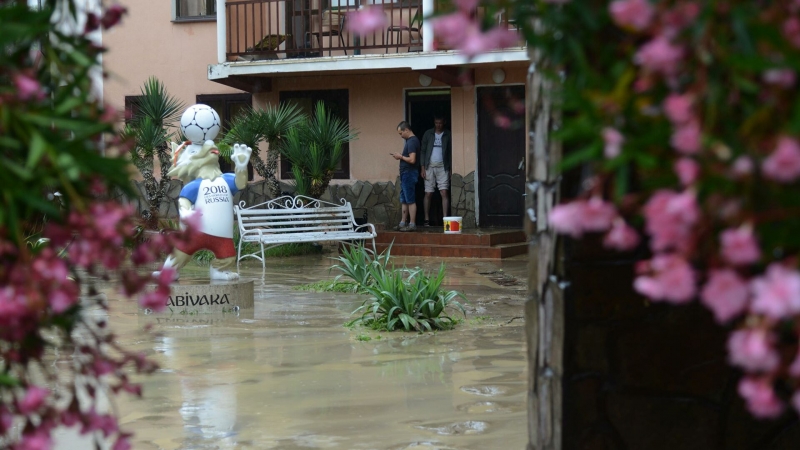 Rospotrebnadzor ordered to strengthen the control of the situation in the Krasnodar Territory and in the Crimea due to flooding after a widespread disaster, according to the department's press service said.
"The Federal Supervisory Service for the Protection of Consumer Rights and Human Welfare was tasked with strengthening the monitoring of the situation in the Krasnodar Territory, in the region of the city of Sochi and the Republic of Crimea, in Bakhchisarai district in connection with flooding, "said representatives of the department, quoted by RIA Novosti.
The regional departments of Rospotrebnadzor in the territory of Krasnodar, Crimea and Sevastopol will strengthen control of the quality and safety of drinking water supplied to residents.
Temporary accommodation centers (TACs) will start operating in Crimea.
"The office of Rospotrebnadzor in the Republic of Crimea and the city of Sevastopol have organized work to monitor compliance with sanitary and epidemiological requirements in TAPs, control the quality of food. Temporary accommodation points have already been deployed taking into account the new guidelines developed by Rospotrebnadzor for TAP in the context of the continued spread of the coronavirus infection. ", – stressed to Rospotrebnadzor. The wind has blown out: where do hurricanes, tornadoes and tornadoes come from? What's the difference? 15:13
On Monday, authorities in Sochi called on citizens to gather all essentials in the event of a possible evacuation due to the rising waters to a critical level in the Khorota and Matsesta rivers. In Sochi, sirens are activated to alert the population of possible flooding, lifeguards are on duty in the streets. On July 4, a hurricane hit Sochi, one person died, two others were injured. Dozens of trees were cut down in the city, there were power cuts.
A powerful cyclone hit Crimea on June 17 and caused flooding in Kerch and several settlements in the eastern region. The next day, showers reached Yalta, where a state of emergency was declared. The entrance to the town was temporarily closed, some houses were left without electricity. According to official figures, 49 people were injured, one killed, another woman was missing.
Earlier, Sputnik Radio reported that rescuers had issued residents of Sochi with an emergency warning.